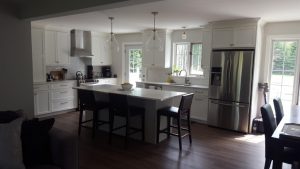 Thunder Bay Renovations is a Thunder Bay renovations company specialized in providing professional renovation services. Our extensive experience in the renovation industry allows our personnel to assist clients whenever they require a professional renovation, be it kitchen renovations, bathroom renovations, flooring installation and other renovation services in Thunder Bay, Ontario.
Our focus is on providing a "new standard" in terms of quality renovation services in Thunder Bay, Ontario. We are fully dedicated to guide you throughout the entire renovation process, from the initial estimate, to the material selection, to the final stage of renovation, until you are 100% satisfied with the renovation project that we have completed.
We invite you to contact us today and one of our expert personnel will be happy to answer any question you may have about our renovation services and products in Thunder Bay, Ontario.
Simply fill out the form on this page to request an estimate.